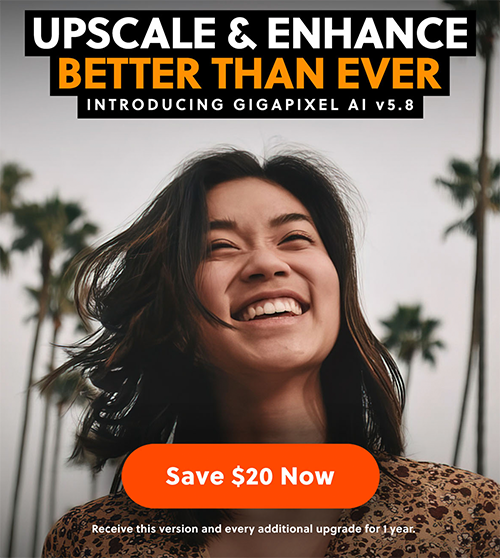 Topaz launched the new update on Gigapixel AI. It is also on sale until February 18 (Save a total of $33 using our checkout code "rumor").
🤖 Improved face refinement pipeline
Gigapixel AI will now do a much better job detecting human faces more often and delivering more realistic results. Tiny background faces especially should see a noticeable improvement in quality.
🖥️ Significant image quality improvements with Windows GPU
You'll notice much better image quality across all models in Gigapixel AI when using GPU-powered Windows machines.
🧠 Reduced memory usage
We've streamlined how we cache and utilize image data through the entire editing pipeline, resulting in less memory usage and faster importing and exporting of image files.
⚙️ Lots of usability improvements and bug fixes
We've improved the post-processing resize algorithm, optimized how we compress JPG, PNG, and TIFF files when exporting, and squashed a bunch of annoying bugs.
Reminder: You can use our checkout code "RUMOR" to get an additional 15% discount on all TOPAZ products (Click here) that already got a 25% default discount:
creditSource link